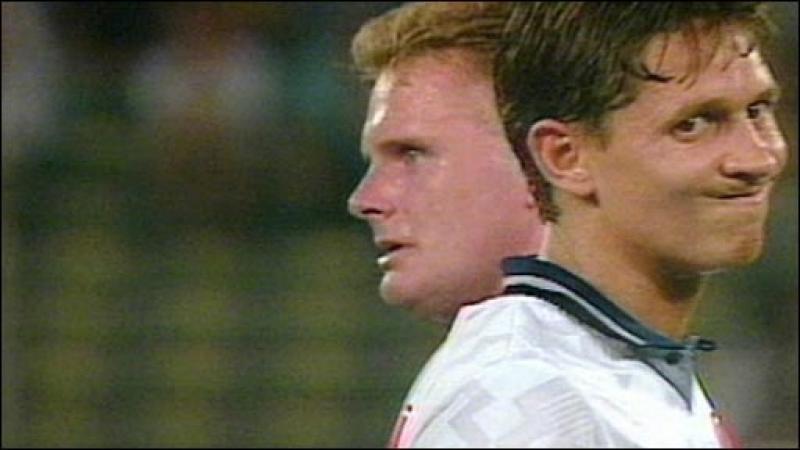 Counting down the hours until the World's greatest sporting spectacle gets underway? Longing for the nostalgia of World Cups gone by? Then you could do a lot worse than catching James Erskine's One Night in Turin an in depth look at the exploits of the English football team in Italia 90 set against the backdrop of football hooliganism and unrest.
Before the Premier League and multi-million pound salaries etc, in England 'football' was a dirty word. The game was in disgrace, the fans, hooligans, the nation, it seemed, were all played out. Then there was Italia '90 - The World Cup - a shot at redemption.
In the presiding years after this 2010 documentary, James Erskine has shown himself to quite profound in the tricky field that is the sports film as is evident in the wonderful Battle of the Sexes which was released last year.
In One Night in Turin, the director uses excellent raw footage of the World Cup in 1990 and marries with the soundtrack of the time, and all this is further strengthened by the wonderful encapsulating narration of Gary Oldman.
Aside from a somewhat snobby attitude to the style of Irish football played by Jack Charlton;s side at the time there is a lot to like about this trip down football's memory lane.
Bobby Robson and Paul Gascoigne both play starring roles in this fascinating warts and all documentary which simultaneously focuses on the joyous adventure on the pitch with the brutal reality that is occurring off it, with violence and trouble to the forefront.
Overall, One Night in Turin will draw it's viewer in and firmly grasp their attention for various reasons and is a timely appetiser before the main event kicks off tomorrow afternoon.
✸✸✸1/2